good food for
healthy minds!!!
I think we can all agree that the typical American diet is not healthy. It provides too much processed food, convenience food, sodas, red meat, salt, sugars, and calories; and it is deficient in fruits, vegetables, and fiber.Welcome to the healthy lunch service from No Junk!!!
No one would argue that we shouldn't try to reduce sugar and processed food consumption; the question is how to accomplish that. At No Junk we challenge the students to make good choices.
Beside the hot menu a big variety of a la carte such as sandwich, soup, salad & panini bars, fresh baked focaccia pizzas & bake goods, fruit cups, parfaits, variety of drinks, etc. 
Bente Oestergaard
CEO/Founder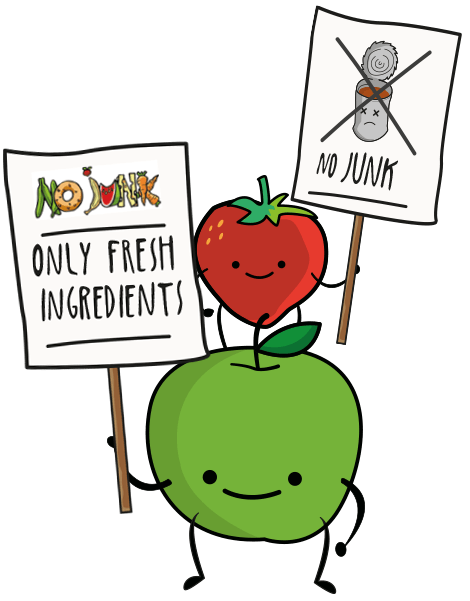 Schools are faced daily with preparing children for their futures through education. Studies have shown that the food children eat has an impact on their behavior and energy level. No Junk offers healthy foods that students want to eat, with the goal of giving them more energy in the classroom.
We know that the right food makes all the difference in a student's motivation and their ability to learn. We want to create more awareness about the value of eating right and become the number one choice for school lunch services by both parents and schools..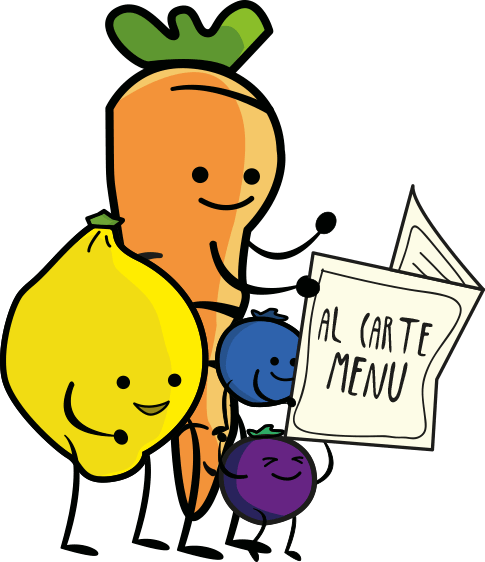 HOW DOES IT WORK AT EASTSIDE CATHOLIC SCHOOL?

At Eastside Catholic there are no pre-orders. The students can purchase break/breakfast, lunch, snacks and drinks in the cafeteria between 7:00am and 3:30pm
HOW TO SETUP AN ACCOUNT AT EASTSIDE CATHOLIC SCHOOL?

If you already have the STUDENT ID, please follow the instrucktions below. If not, please email office@nojunk-goodfood.com to get your child's student number.

To link your child. Click "MY STUDENT," , fill in the "STUDENT ID" you received, your child's last name, Pick School District - No Junk Inc. "Submit".
We are proud of what we do. Our concept builds on convenience for all parties.Here are just a few quotes from some of our customers
Maureen Blum - Head of School St. Benedict, Seattle
Thank you for your work. You are the best food service with whom I have worked over my 25 years in administration.
Ken Fox - Director of Facilities - Eastside Catholic School
Don't tell our students, but even when they think they're eating "junk food", No Junk secretly offers them a healthier version than they'll get anywhere else. I have been impressed with their healthy versions of common foods ki+ds like to eat
Shawn Sutton - St. Benedict Mother
I am thrilled with the food and service No Junk-Good Food has brought to my daughter's school, St. Benedict. I had assumed that my daughter Avery couldn't eat the meals served due to her food intolerance. So, at first I continued to pack her lunch. It took me months to figure out how to feed her well after her dietary restrictions were diagnosed and I didn't expect a food service to modify it's meals for her dietary challenges. One day I was in the cafeteria and said to No Junks Operations Manager Jeff Duncan "I'm sure you aren't able to accommodate a gluten and dairy sensitivity, are you?" To my surprise and delight the response was "Absolutely, we can do that". Since that day, No Junk has gone above and beyond to make sure my daughter has a healthy, delicious meal every day. No Junk has far exceeded my expectations of an onsite food service. I have been grateful how they have worked thoughtfully with my daughter and I. Avery is so happy to eat meals with her classmates and loves the food. I love the peace of mind it gives me knowing she is eating healthy food she enjoys
Marguerit - Eastside Catholic Parent
Marguerit – Eastside Catholic Parent
Thank you for creating such wonderful lunches for the kids at Eastside Catholic School. Ben is our last child in high school and the only one out of our 3 boys who continually raves about how good your lunches are as well as being reasonably priced. His older brothers went to a different high school. Keep up the good work!
Dear No Junk Inc, I am loving the hot lunch. My Favorite food so far is the quesadillas. I have been thinking about how hard you have been working to make the lunch and bring it to us. It is great that it is so easy to order and so fun. All of the foods are my favorite and it is very good. I hope you enjoy making hot lunch for us at St. Francis. I think everyone that ordered hot lunch loves it, and I know I do. It was sad when there was not a hot lunch, but now we are all happy because you are here
Shane Pierard - St. John Parent
Thought you would get a good chuckle from this.. Last night, Ryan, my kindergartener told me that I was a good cook but not as good as the people who make his lunch
Jeff Rodenburg - Dean of Students Eastside Catholic High School.
"The smell of fresh baked bread and cookies, the taste of Salmon Chowder or other soups, the sight of homemade pizza, fresh fruit and salad and a multitude of other healthy options greet our students each and every day. Like one of our Seniors said, "No Junk has brought their "A" game this year". I believe that No Junk Inc. is a great option to the deep fat fried fast food world that we live in today."
Sonja Stella - St. Benedict mom
My kids announced today they will no longer eat Annie's Mac N Cheese, only the kind that you make. : ) It's a big compliment, as Annie's has been the staple "easy to make and all kids like it" food in the house. Also I wanted to let you know that I have a whole new appreciation for what you are doing after I recently watch Jamie Oliver's TED Talk.
Katie Cowden - St Benedict School parent
St. Benedict School had been searching for a hot lunch provider for our school for several years—we wanted someone that would serve our children healthy, (mostly) organic, kid-friendly food at a reasonable price. Most companies promised healthy and organic but then went to the 'big box' stores and simply purchased heat and serve items. No Junk is exactly what we were looking for! No short-cuts, prepackaged or frozen food here—their friendly, smiling chefs are on site every morning cooking/chopping and creating meals that all our kids love! Even better, parents love them too! The price is right (I can't purchase sack lunch items for my 3 kids for less than the price I pay for a hot, healthy lunch!), the guilt of not packing a lunch from home is gone knowing that they are getting a wonderful meal at school and they are trying new foods that they would never eat if mom or dad made it at home. My son will only eat the Alfredo sauce from No Junk—he thinks it's the best he's ever had! I especially like the "Menu Planner" part of No Junk—we can print out the menu at home and order meals online for just a day or even the entire month—definitely a bonus for busy parents! I am happy that our school's finally found a company that realizes school lunches can be both kid and parent approved!